RBANKING : Managing Loans
The loans folder provides an easy way to keep abreast of accounts and clients.
The loans folder shows all payments, rebates, and condonations made for a particular loan.
The loans folder also shows clients' details along with all transactions, and provides a listing of other accounts.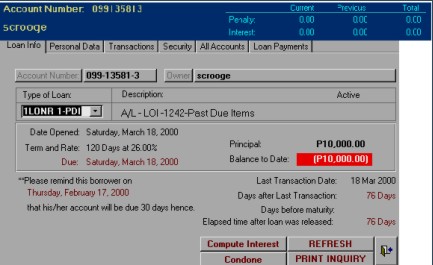 View Clients & Accounts
This gives users another way to track clients by viewing all accounts of the selected invidividual.
Penalty & Interest Payments Distribution
View the history of transactions for each loan account. It shows all payments made for penalties and interest. Here it is easy to see which clients have good credit.
Lookup Penalty/Interest
Alternatively, view the list of payments made by a client for all his accounts, regardless of the accounts that he/she has.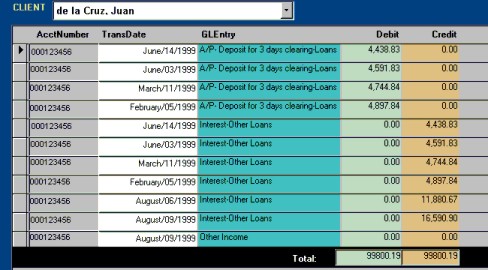 Accounts
Users see details of a particular loan account such as account details, collateral information etc.
Loan Portfolio
Shows the distribution of loan releases amongst the general loan types i.e. as well as their respective breakdowns.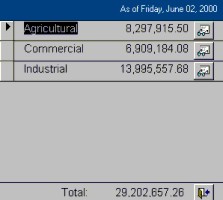 Pending Approvals & Pending Release
Users can see the list of accounts pending approval or releas. At a click of a button, get further details of the loan.