RBANKING : Managing Accounts
Use this feature to search for a particular record.
Account Information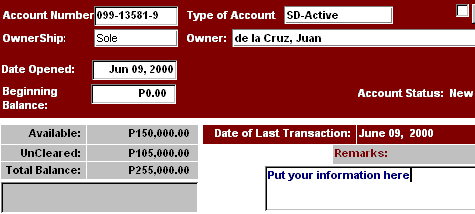 View clients' account details in the account information window.
Account Ledger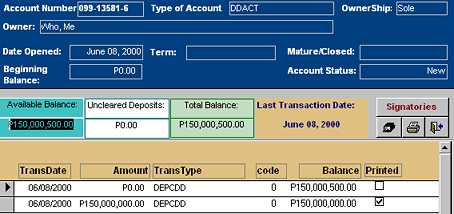 View account details in the Account Ledger Window.
See information about a savings/deposit account as well as all transactions made to date.
Editing Accounts
Edit entries and information of accounts here.
Checking Balance
Use the Checking Balance to check and compute for the balance amount of an account.
Check Management
Check Register – shows all checks that have been issued by the client
Check Inventory – shows all checks bought by the client. These are sorted by date.
Check Review – shows details of check stubs issued to a client as of a certain transaction. It also shows
information about the transaction.
Who owns Check – displays the owner of the check.
Uncleared Checks Viewer – shows all uncleared checks. The total amount of uncleared checks is shown at the
bottom
Check Registry – displays all checks that have been received and are awaiting clearance. View the date of
transaction, the amount involved, the bank where the check was issued from, and the date of clearance.
Check Information
Client Information – displays clients' details such as contact information, birth date, etc. Edit data here.
Addressbook – Client's contact information are listed by alphabetical order. Locate a client using the letter
buttons at the bottom of the screen.